APPLICATIONS FOR 2022 WILL BE AVAILABLE ONLINE WEDNESDAY, SEPTEMBER 1, 2021.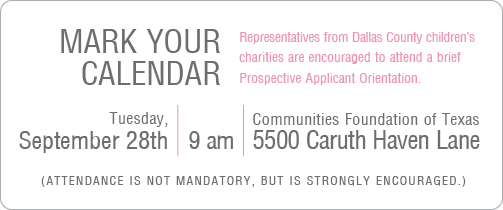 The Prospective Applicant Orientation will be held on Tuesday, September 28, 2021 at Communities Foundation of Texas in the Mabel Peters Caruth Center Community Room at 9:00 a.m. with social distancing and masks required. Please be advised this could change due to the volatility of the Delta variant. Please continue to check back for updates. Representatives from Dallas County children's charities are encouraged to attend.

APPLICATIONS WILL BE DUE BY NOON ON FRIDAY, OCTOBER 15, 2021.
The Selection Process will go through several rounds of review:
Initial Review - Fall 2021
Round I - January 19-20, 2022
Round II Agency Presentations - January 26-27, 2022
Final Round Agency Presentation - February 3, 2022
** The 2022 Beneficiaries will be selected February 3, 2022 **